Quality objectives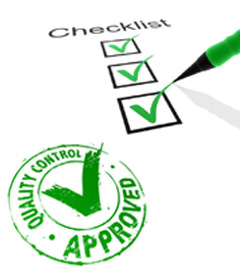 Audits
Our 14 stage quality audit on EPCs, DECs and Air Con Certificates will provide you with the confidence that the certificates you are lodging or have had commissioned are correct and have been checked by a quality organisation. Further guidance on Sterling's auditing requirements are available in individual strand; practices and procedures manuals (members only)
Member Feedback
For every Audit we complete, you will receive a minimum 4 page report, giving full details on how your report was checked, complete with any advisory comments from our experienced QA Managers. Our reporting processes will provide you with up to date information on the quality and output of your energy assessments.
Methodology
The current requirements are that every accreditation scheme shall QA at least 2% of its total reports per annum selected at random. Our focus is not just on meeting the current QA requirements but on exceeding the requirements of the latest new proposals so Sterling will:
Audit the 1st report for every new member within 30 days of lodgement – if we are not happy with the result we will QA 2 further reports.
Have at least 1 report (per Accredited strand - Domestic EPC, AC3, AC4, EPC3&4, EPC5, DEC & AR) for each member audited every 6 months
Audit 2% of total reports per new member within the first 6 months
Carry out risk based targeting of reports for further random QA
Carry out further checks at lodgement to ensure that:
the assessor has actually been on site
the assessor lodging the report actually collected the data i.e. no data gatherers were used

Lodgement pre-checks
To ensure accuracy of lodged reports, our lodgement engine completes a series of checks prior to releasing an XML file to the central registers. These pre checks have been put in place to protect our members from human error mistakes and to also ensure that every lodged report is correctly insured.
Pre Checks include:
Registered Assessor Name
Trading Name
Trading Address
Insurance Company
Insurance Policy
Insurance Effective Date
Insurance Expiry Date
Insurance Porfessional Indemnity Limit
All of these pre-checks allow you the piece of mind knowing that your lodgement is accurate against your registered details.